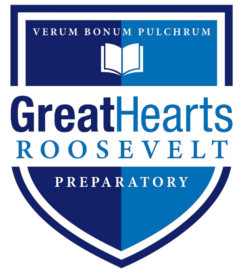 Find out the latest new and events happening at our academy weekly!
Roosevelt Prep Weekly Newsletter
Roosevelt Preparatory Academy is a growing 6th – 9th grade preparatory academy that that is tuition-free, for all students. We are part of Great Hearts whose academies have a prestigious record of college admission and graduating men and women prepared for a great life. The classical program at Roosevelt Prep unlocks the curiosity and potential of every child for a life of learning, and it shapes his or her character for goodness.  We are committed to the ultimate aim of people: a thriving life filled with joy and happiness in which one faithfully serves his/her community.
We currently serve 243 students in grades 6-9 grade in a new, state-of-the-art campus off of Jackrabbit Trail.  The brand-new campus includes seminar rooms, science labs, a library, full gymnasium, and field. We are not finished building yet!  We will graduate our first class of seniors in 2027.
This complete campus is brought to life by its exceptional faculty. We recruit teachers from around the country to engage every child in a liberal arts education that will make a huge difference in their lives as we serve students from various backgrounds and academic experiences.
We provide students with a lasting foundation in Reading, Writing, Math, Science, and History, as well as knowledge and skill in Spanish, Music, Art, and Physical Education. Students at Roosevelt Prep learn to pursue those three transcendentals – Goodness, Truth, and Beauty – that promise an enriching life.
We warmly invite you to learn more about our school, our faculty, and our campus culture. We all look forward to meeting your family!